DUO: Mili Bermejo and Dan Greenspan – CANCELLED
« Back to Events
This event has passed.
Event:

DUO: Mili Bermejo and Dan Greenspan – CANCELLED

Start:

October 21, 2012 4:30 pm

End:

October 21, 2012 6:30 pm

Category:

Updated:

August 22, 2012
Venue:

Phone:

510-845-5373

Address:
Google Map

2087 Addison St

,

Berkeley, CA

,

94704

,

United States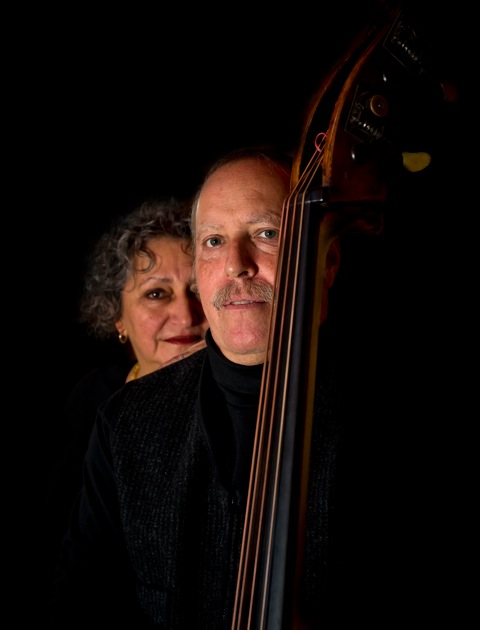 Vocalist Mili Bermejo and bassist Dan Greenspan have developed a rich, multi-cultural sound that blends jazz, Latin American and classical. With a repertoire that includes the works of contemporary composers alongside standards of the jazz and Latin traditions, this unique duo is renowned for their highly original textures, pulse and lyricism.
"Mexico and Argentina are in [ Mili Bermejo's] blood, Boston academia and progressive jazz are on her resume, and the Latin tinge that is her second nature is at its most compelling when she's surrounded by a sizable ensemble of deft, daring players."
—Jim Macnie, Village Voice
About Mili Bermejo:
For more than three decades, Boston-based vocalist/composer Mili Bermejo has transcended the borders between cultures and musical genres. Critics have called her "the Latin equivalent of Abbey Lincoln…a singer/composer who challenges us with her musical honesty" (Cadence) and described her inclusive sound as "part poetry-folk, part Sarah Vaughan sophistication" (Boston Magazine) and her music as the place "where jazz meets Latin with elegance and soul" (Boston Globe). "Cross-cultural projects are now commonplace," writes the Boston Phoenix's Jon Garelick, "but Mili Bermejo's aesthetic has always been singular…long a fixture on the Boston scene, [she] combines all manner of Latin American folk in a way that gives her music a flavor that's as up-to-the-minute as it is Old World."
With her husband, bassist Dan Greenspan, Bermejo's project DUO has become  the basis her musical explorations since the 90's, developing Bermejo's compositions and finding creative ways to blend the aesthetic of Jazz with the colors, textures, rhythms and poetic content Latin American music. Bermejo has toured extensively and produced a dozen recordings, including: "Casa Corazon" with George Schuller's Orange Then Blue Big Band, "¡Ay Amor!" with Mick Goodrick, "A Time for Love" with Bruce Barth, and, most recently, "Love Songs of the Americas" with Tim Ray and Eugene Friesen.
www.milibermejo.com

CANCELLED



iCal Import
+ Google Calendar